This week we are featuring the WUBEN LT35 LED Handheld Flashlight. It is Zoomable, Rechargeable, Waterproof and perfect for winter!
Take a look!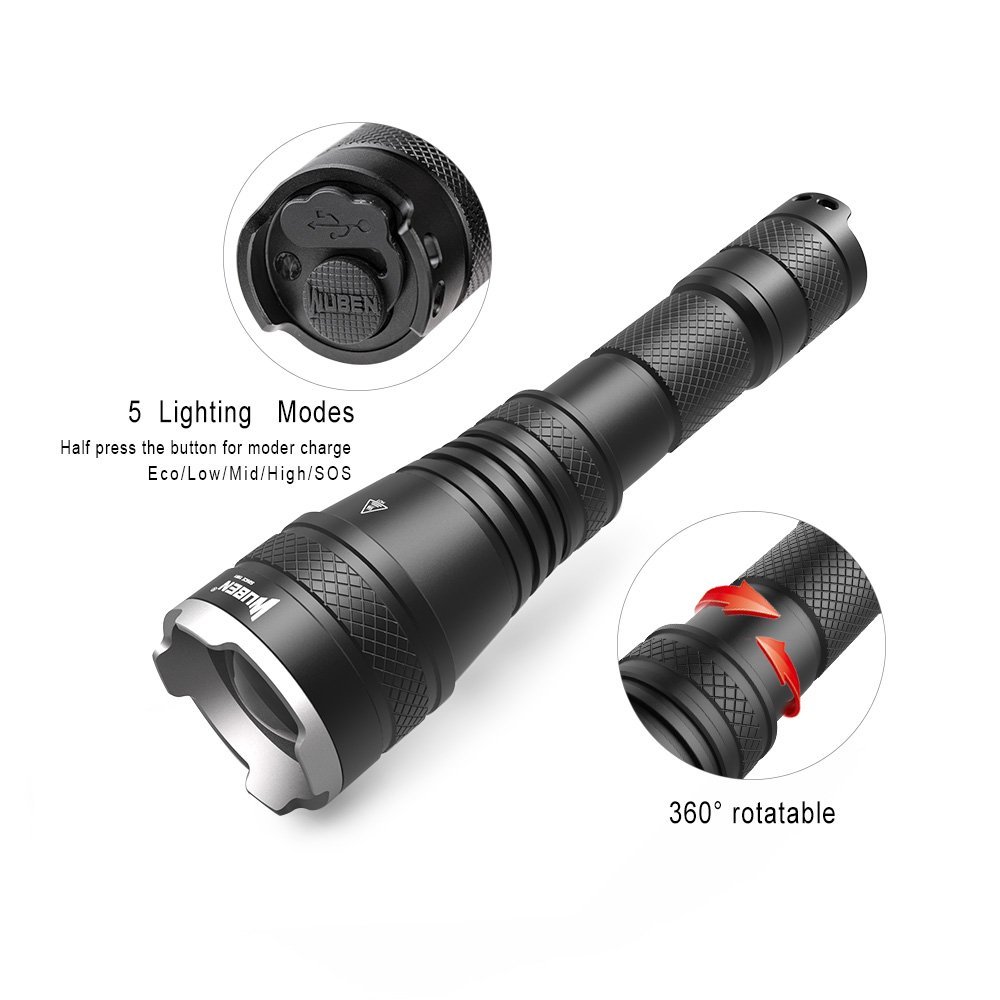 Here is the description from Amazon:
– LED Type:Ultilizes CREE XP-L2 V5 LED
– Material: Aerospace grade aluminum body,
– Lifespan:50000 Hours
– IP Rating: IPX8, Works well in raining day
– 5 Modes: High / Medium/ Low / Eco/ SOS
– Max output: 1200 Lumens
– Powered: 18650 Battery
– Weight (g): 128g
– Color: Black
Package Includes the following:
1x LT35 LED Flashlight
1x USB charge cable 1X 18650 battery
ATTENTION:Please open the tail switch of flashlight before connecting the USB cord when charging.
SUPER-BRIGHT: 1200 Lumens (max) Ultilizes CREE XP-L2 V5 LED,Spotlight an object as much as 1050ft away.Fully zoomable from wide to narrow beam. Features 5 adaptable settings: High / Medium / Low / Eco / SOS.
USB RECHARGEABLE:LEDs boast an extended 50000-hour lifespan and comes complete with a rechargeable 18650 battery,Connect the flashlight to any power supply, such as computer, laptop, phone charger, car charger, and so on.
SMART DESIGN:A pocket-friendly compact chassis with an anti-slip finish holds fast for your hand,and Hands-Free design to stand upright to offer full ambient Lighting in any room.
DURABLE & VERSATILE: IPX8-rated water resistant and designed to be used in heavy rain. Its durable aluminum body and shock-resistance endure rough handling.it still works great! It's incredibly versatile, or even great for self-defense! Use it even as camping, hunting, mountain climbing,Bike Riding,all the way through power outages, emergencies, and more.
WHAT YOU GET:WUBEN LT35 LED Flashlight,18650 Battery,USB charge cable, User Manual,Lanyard,spare O ring.
Product Review:
I personally love this flashlight. It is usb chargable and very bright. It allows me to charge it in my car!
The accessories include a user manual, a micro USB cable, a lanyard, spare o-rings, and as I mentioned, a 2600mAh 18650 battery.
So, it offers 4 regular lighting modes; Economy (ultra-low) 4 lumens; Low 72 lumens; Medium 360 lumens, and High 1200 lumens. Plus SOS. There's no Strobe on this model. It's also impact resistant to 1 meter and waterproof to IPX-8 (submersible to 2 meters). Beam distance has been tested at 320 meters (350 yards) .
It's 5.7″ long, and when extended (for the zoom) it's 6.2″
To operate it, just click the rear switch, then lightly press to change the modes. There's NO mode memory, and the DEFAULT is "LOW", so each time it's turned off, "low" is what you'll get next time. The sequence is low to high, followed by SOS and "economy". The only way economy mode CAN be reached, is turn it on and cycle through low>medium>high>SOS, with "econ" being the next mode that follows. To focus the beam, just twist the body of the light. Several twists are required to each the longest focus. The other GOOD thing about it, is when the beam is focused all the way, you don't get as "squared" a beam as you do with other adjustable flashlights.
Have a look at the comparison photos I took of the two types of LED's side by side.
When it's charging, a red indicator on the base lights up. It turns green when it's finished. There's also a low battery indicator too. This works by making the main light "flash" every 5 minutes when the battery gets low.
For the price, it has decent features, and the switch works responsively during operation.
The two cons, are that it doesn't remember the last mode, and that "Eco" is hidden until you cycle through ALL the modes first. Other than that, it's a good, general, all-purpose flashlight.
If you want to grab one do it now while it is only $23.99!
WUBEN LT35 LED Handheld Flashlight,Zoomable,Rechargeable,Waterproof