Today I wanted to share my absolute favorite headlamp! It is very light and comfortable on the head, very bright and yes, it is rechargeable! It is the GRDE Zoomable 3 Modes Super Bright LED Headlamp with Rechargeable Batteries, Car Charger, Wall Charger and USB Cable!
If you have a flashlight but do not have a headlamp you are really missing out! There is nothing better than hands off light that always points to where you are looking!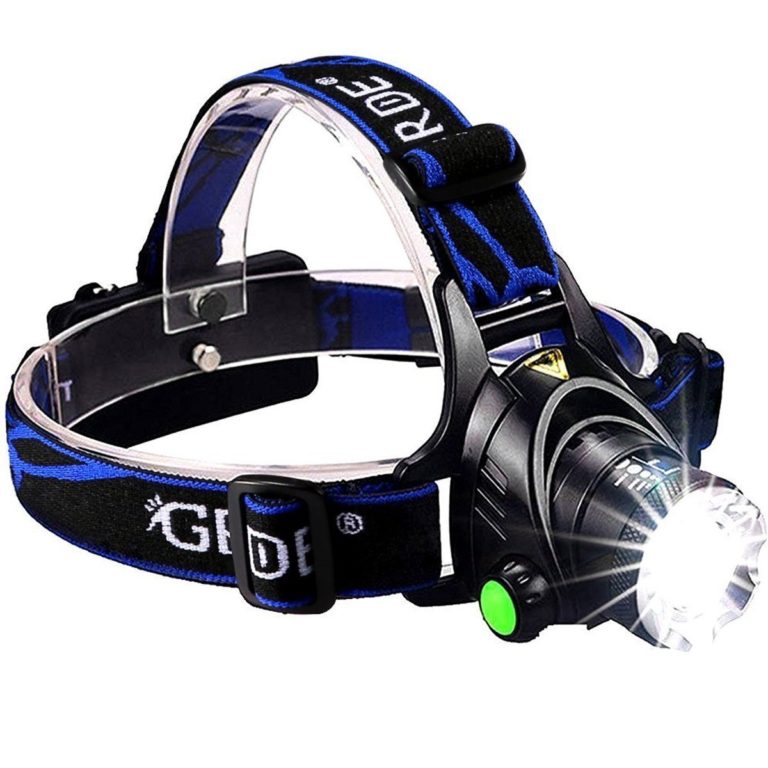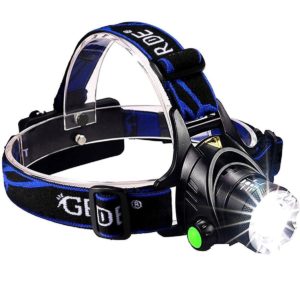 Product Notes:
Includes Headlamp , 2 rechargeable batteries, Wall charger, Car Charger, Usb cable, User book.
Please remove the plastic wrap off the batteries at first time use, otherwise it cant recharge.
Battery lifespan can reach up to 100,000 hours. The Brightness is up to 1800 lumens.
3-in-1 Multi-Function Capability; Can use as headlamp, Waist lamp or a Desk lamp.
This Headlamp is Zoomable, Adjustable, Durable, Hands-free and Comfortable! It has 3 Modes: Low; Mid and Strobe.
Package Includes: 
1 x Headlamp
1 x Wall Charger
1 x Car Charger
2 x 3.7V 18650 Rechargeable Batteries
1 xGRDE Headlight Special USB Cable
1 xGRDE English manual book
Product Review:
I own few emergency lights and regular flashlights,and I don't seem to get enough of them! So when I was given the opportunity to test and review this free sample of the zoom able light,I just had to add more to my collection of battery operated lights,and here is my humble opinion of this Headlight:
Product Quality:
————————
By far, this one gets my highest approval rating due to its decent quality and practicality,not to mention the great price!
Battery comes wrapped in hard protective plastic that makes it look like it should stay on,and that is why the manufacturer posted a note inside the box to remove the plastic wrap!! The two batteries are rechargeable,non of that bank breaking battery replacement expense!
Head strap is adjustable to fit around your head accordingly as not all heads created equally! It is very comfortable and snug around the head to keep the light in place. Now the most impressive part is the many ways of charging the headlight,besides the rechargeable battery it comes packed with three different charging cables! Cigarette Lighter Cable to charge in your car or RV. Wall Outlet Charger,to charge at home or work. USB Charging Cable to be plugged into any USB charging source. The zoom function is a great feature for working on small projects,so you can focus your light on a smaller area,not having to light up the whole room.Or you can widen your light for outdoor use.
Final Thoughts:
———————-
Although the light lens might look small in appearance,not to be fooled by the size,this light can be extremely bright when its on the higher level of brightness (see my pictures bellow) I forgot to mentions that it comes with three lighting mode,Low,High and pulsating or emergency signaling mode which can be handy when Cycling or in an emergency situation. All and all this light is of a great quality and is heavy duty to last for long time,having said all of that,I highly recommend it to my fellow Amazon shoppers.I did get this product as a test sample free or at a discounted price. Also worth noting that I am an Amazon shopper just like the rest of you and depend on reviews for full-priced purchases using my hard earned money too! So I do NOT falsify my reviews for the purpose of receiving products at a discount because I trust & hope that others are giving honest reviews on products I'm looking to purchase as well! With that said, I hope you find my opinion helpful in making or breaking your buying decision, if so please return the favor by hitting the YES button bellow while you're at it 🙂
Are you interested in this outstanding head lamp? Get all the details and specs here while it is on sale! Buy This Headlamp