There's nothing as assuring as having your light above your head in the absence of natural light. You can swiftly align and adjust yourself towards the line of safety. You are not getting a simple headlight, it's a proper outdoor lamp that serves numerous purposes.
This is one light that will move when you head moves and you can always adjust the focus to the desired angle. Kaieldi Led headlamp goes beyond the ordinary to deliver full bright lamp light that works in the in the darkest of night.
Get ready to get your heads fitted with the adjustable strap as you know reasons why you should choose this rechargeable headlamp.
Why Choose the KAIELDI LED Rechargeable Headlamp
There are too many reasons why you'll want this rechargeable headlamp ahead of many others. One reason stands out of it all, this is not one headlamp that needs you to purchase additional accessories, everything is supplied in the kit.
If that's not convincing enough the reviews on Amazon and every other seller's website should do the trick. Every one of the reviewers has something positive to say about the multifunctional rechargeable headlamp. You'd wish you've had it earlier as it will make your outdoor events easier and safer.
Just know that you'll see whatever is in 100metres ahead of you. This gives you enough time to brace up for the challenges and hurdles.
Description of the KAIELDI LED Rechargeable Headlamp
There's a lot this rechargeable headlamp has to offer than most other lamps. It is built specifically for outdoor activities. Meant to make life easier for you while at home and far away from home.
At just 7 ounces, you'll never feel the weight of the lamp over your head. Just strap over your head and you'll do your thing just like always. Talking about the battery, the dual battery with an accumulated strength of 3600Ma is strong enough to take you through the entire night. The batteries at full charge will provide not less than 6 hours of continuous light.
Charging this battery does not come with many hassles, with you USB outlets you can fully fill up the battery juice. In a matter of two hours, the battery gets filled up and you are ready to light up the roads again.
You should trust the potency and durability of the 4 LED lights of the rechargeable headlamps. It is expected to provide not less than 100,000 hours of light. This should be enough to take you through many years of camping, fishing, hunting, and other outdoor activities.
Who Should Buy the KAIELDI LED Rechargeable Headlamp
Do you enjoy outdoor fun and activities? if yes then you need to buy Kaieldi LED Rechargeable lamp. While camping, hunting or scavenging the deepest forests of Asia, America, and Africa, you have the right tool to walk without darkness.
You have a reachable headlamp with the battery strength and capacity to withstand long hours of use. The build is also strong enough for rugged users. In short, you are making a good investment.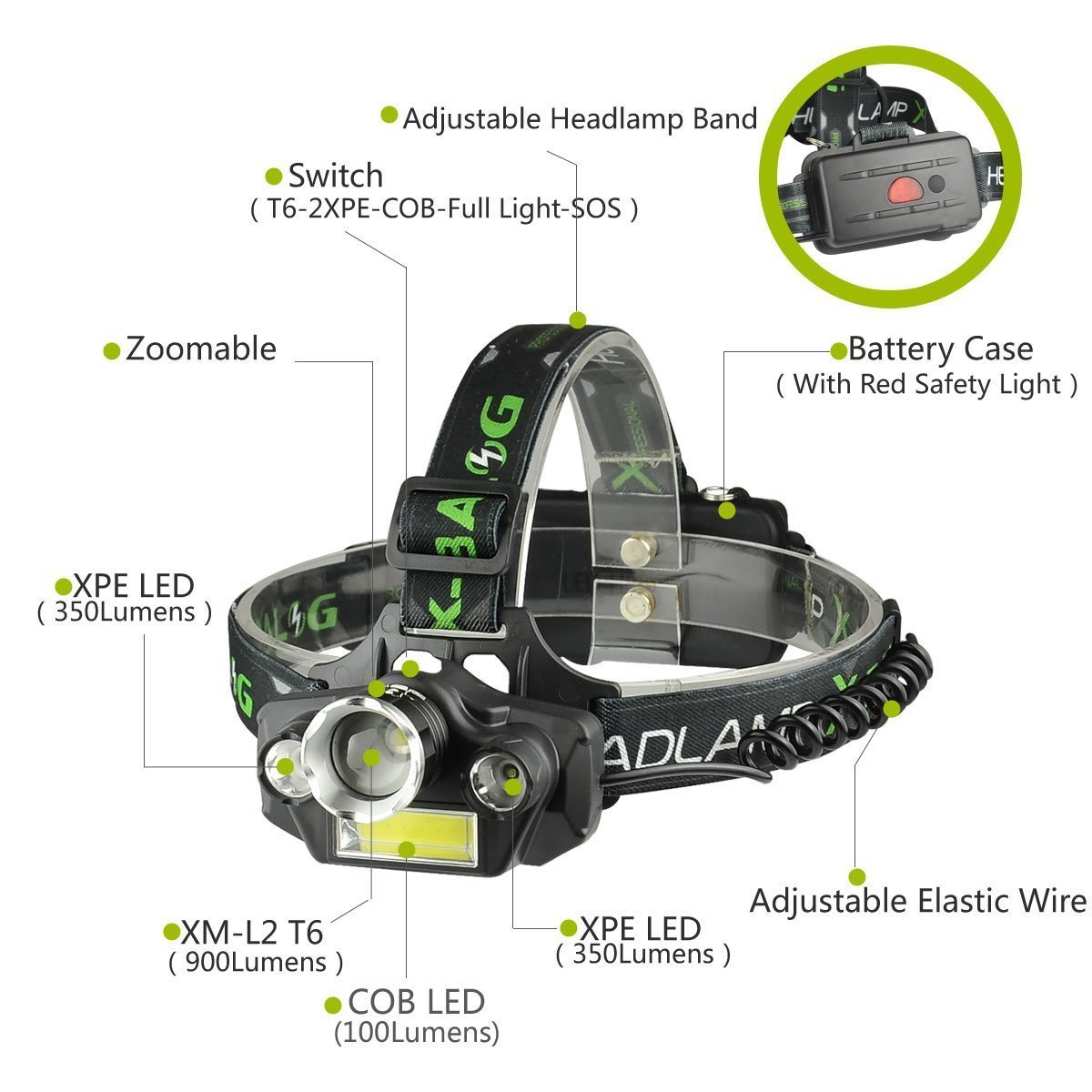 Quick Recap of Features
Double 1800mA Batteries
USB Charging
Four LED Bulbs
Warning Light
7 ounces Weight
Telescopic Function
6 Hours After Full Charge
90 Degrees Lamp Adjustment
Stretchable Strap
Pros
Strong Battery Life
Adjustable focus and gaze
Adjustable Strap
Cons
It could have been more beautiful
What's In The Package?
Kaieldi LED Rechargeable Headlamp
Dual 1800mA Batteries
Charging Cable
You should buy the Kailedi USB Rechargeable Headlamp Now While It Is Cheap!